SIG SAUER, Inc., announces that Team SIG member, Lena Miculek, was named the Ladies Division Champion at the 2017 Starlight 3-Gun Championship.
During the two-night event, which required competitors to take on seven courses of fire completely in the dark, Miculek relied on her SIG SAUER M400 rifle and P320 pistol to complete the match.
Challenged by intricate course layouts that required the use of lasers, lights and optics, Miculek faced a field of top-flight competitors and ever-changing weather conditions en route to her back-to-back division championship.
In the race for the High Lady title, Miculek was able to out-pace second place finisher Ashley Rheuark, as she competed in a squad of top female competitors which included Becky Yackley, Sky Killian and Lanny Barnes.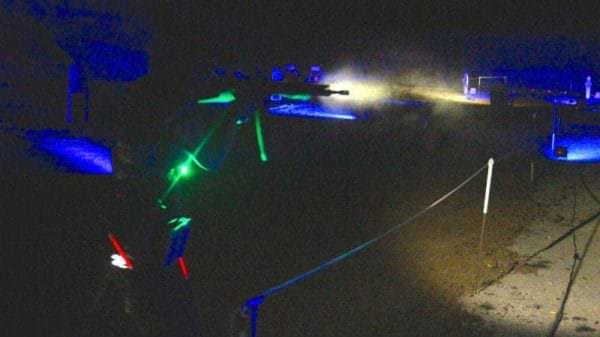 Miculek finished the match in 14th place overall, out shooting some of the biggest names in the 3-Gun community.
"This year's Starlight 3-Gun Championship did not disappoint," said Miculek. "Not only was I able to compete with a group of ladies whom I respect and admire, but running around in the dark with lights, lasers and red-dot sights just never gets old. I look forward to coming back next year and doing it all again."
For more information, please visit us their website. Follow SIG SAUER on social media, including Facebook, Instagram and YouTube.
About SIG SAUER, Inc.:
SIG SAUER, Inc. is The Complete Systems Provider, leading the industry in American innovation, ingenuity and manufacturing. SIG SAUER brings a dedication to superior quality, ultimate reliability and unmatched performance that has made it the brand of choice among many of the world's most elite military, government and law enforcement units as well as responsible citizens. SIG SAUER offers a full array of products and services to meet any mission parameter, including handguns, rifles, ammunition, electro-optics, suppressors, ASP (Advanced Sport Pellet) airguns and training. The largest member of a worldwide business group of firearms manufacturers that includes SIG SAUER GmbH & Co. KG in Germany and Swiss Arms AG in Switzerland, SIG SAUER is an ISO 9001: 2008 certified company with more than 1,600 employees.
For more information on SIG SAUER, any of its products or the SIG SAUER AcademySM, log on to their website.